OUR POWERFUL SOLUTION
UNINTERRUPTIBLE POWER STORAGE SYSTEM
For SMEs all the way to entire industrial plants. We can offer individual solutions thanks to the scalability in the power range up to 4 MVA and large scale storage batteries over 1 MWh.
ECOLOGICAL SUSTAINABILITY
In combination with Solar panels, each kWh produced from the Solar installation will be fully used (100%) to supply the connected load and battery installation. Nothing of this green energy production will be injected in the local Grid. This is the only possibility to reduce the energy production coming from fossil or nuclear energy plants. Thus, reducing CO2 emissions
DECENTRALIZED GRID COMMUNITY
Each batterX® installation is a step in a greener future. In combination with Solar / Wind or any other green energy supplier, we can store the green energy production during a possible overproduction and use this green energy storage during an possible underproduction. All electric lines exist. No need to make new lines.
PRICE POLITICS
Producing own energy means creating a high independence against price increasing's. The coming intelligent electrical counter will work with many different energy prices per kWh. With the batterX®, we are able to analyze the prices and choose the best price for the period where we must buy electrical energy.
UPS/BATTERIES
The batterX® UPS technology offer the best and highest possible protection level to avoid electrical problems. The connected batteries offer a backup protection time from many hours to multiple days during a power failure.
RETURN OF INVESTMENT
Depending different parameters (Solar installation, type of batteries, price per kWh, UPS Power, country of installation, energy profile), the batterX® offer a possible ROI between 2-10 years.
FUTURE PROOFED
Due to the open source technology, we can always update the batterX® to make the product better and more efficient. The batterX® can communicate with any other supplier offering open protocols solutions.
ELECTRO MOBILITY
More electrical cars means more energy request. The actual electrical grid is partly not adapted for this new demand of energy. The batterX® has the unique advantage to produce a huge energy request by a mix of different energy with PV+ batteries + Grid. This is manageable over the open source controller of the batterX® (simple internet connection).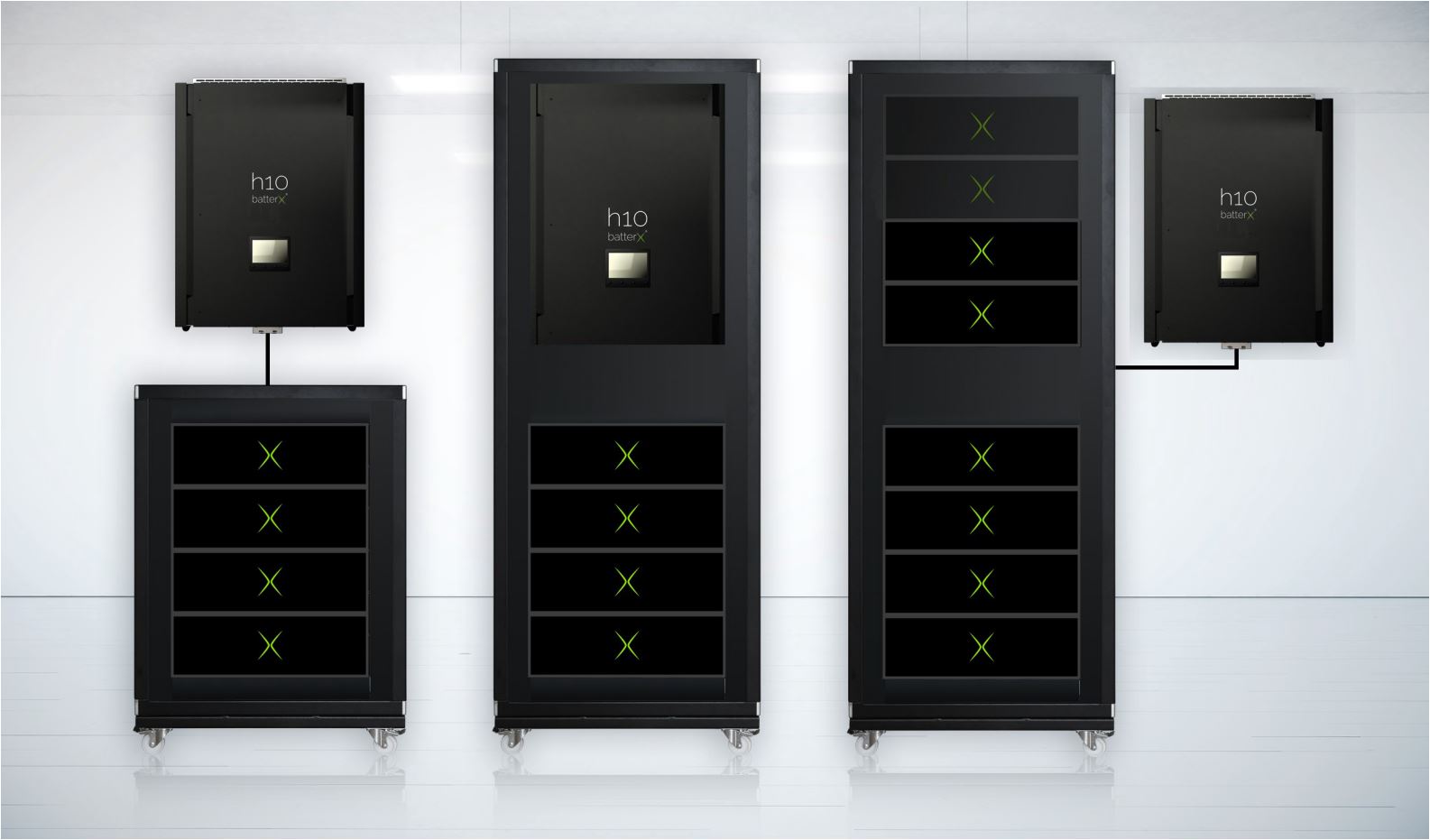 The Home Series is characterised by its multifunctionality – for the first time you really get everything in one housing: on-grid inverter, battery storage and UPS system for genuine uninterruptible power supply with a switching time of less than 10 milliseconds. It comes in single-phase and three-phase versions, can handle PV systems up to 15kWp and can be used with a LiFePO storage from 3.5 to 21kWh.
Two mounting variants are available: The all-in-one cabinet and the inverter wall-mounting. Functionally, these systems are completely identical.
We also offer carbon storage solutions customers who appreciate ecological and safe solutions.